I've been blogging for over four years on the creative life here at Head to Head, Heart to Heart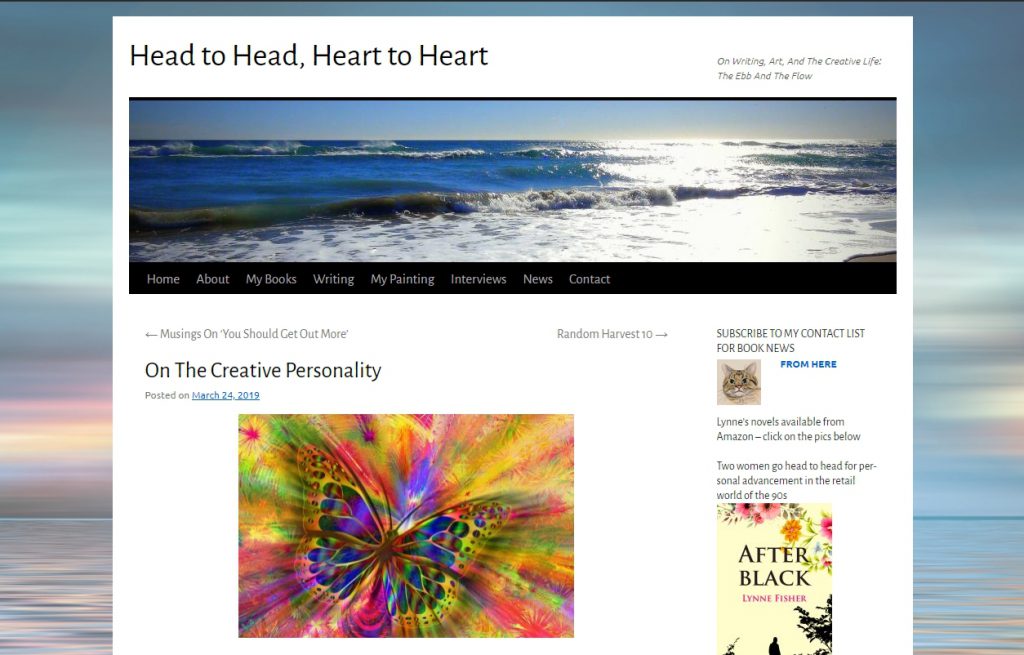 In line with my being a writer as well as a visual artist, I blog about the creative life, the ebb and the flow, how to nurture and sustain it, using my passionate interests in psychology, philosophy, and the natural world but with a real world application, sharing my own observations, thoughts, and snippets from my life. This is also a cathartic process for me which I love, and I'm honoured by followers taking the time to read my posts. I never would have imagined I'd take to blogging as much as I have, so it has been a revelation. So topics include all kinds of things about writing, art and the creative life, matters of the head and matters of the heart.
Here are some posts linked specifically to art and the creative life…
How long did it take you to do it?
Find Your Inner Child To Free Your Creativity and Nurture Your Spirit
Maslow And The Nature Of The Creative Person   
Random Harvest 3: Musings On Hands     
Advantages Of Being A Middle-Aged Creative 
 In Defence Of Thinking Too Much      
What Does Your Eighty Year Old You Want From You Now?     
Creative Vision And End Product              
On Finding Your Tribe And When To Leave It      
On The Psychological Nature Of A Creative Person: Readings To Aid Understanding And Nurture Yourself               
Seven Ways To Make A Painting Work  
On Personal Expectations: Why We're Better Off Without Them  
Managing What People Think Of You To Gain More Personal Power