Lynne Henderson: I'm a visual artist living in the Scottish Borders in a country cottage with my husband and our little grey cat called Sasha, and I've been painting for over 20 years.
Artist and illustrator in natural history, botanical painting, generic landscape, still life, a love of detailed observation of the natural world, vivid colours, textures and decorative effects, hopefully all come together in my work. Stylistic influences medieval paintings, the Pre-Raphaelites and the decorative art movements, so it's clear I enjoy line, colour and detail. I love the journey through a drawing or painting, from initial brief or idea, to processes, to final result. I taught my own art art classes for ten years, with great committment from my students and some fabulous work, but I drew these to a close to make more time for my creative writing under my pen name of Lynne Fisher, which dovetails beautifully with my painting. I work in a wide range of media with a passion for methods and techniques, from watercolour and tonal pencil or pen and ink, to acrylics and mixed media.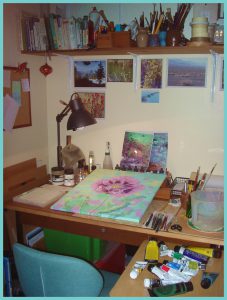 I was born in Durham in the North of England in 1962, and lived in the Cotswolds before settling here in the Scottish Borders in 1998, where the rolling countryside and abundant hedgerows provide plenty of stimulation for painting. Since a fresh start was in order, I rekindled a love of drawing and painting from childhood days, and took local courses before becoming a freelance painter/illustrator focusing mostly upon nature: botanical illustration, flower painting, wildlife, and landscape. People don't feature much in my painting so I address human nature in my writing, which evolved from gaining an honours degree with the Open University in literature and art history.
These days my work is self generated, but commissioning clients have included publishing houses, editorial groups, design companies, local authorities and private individuals, with every care taken to ensure client satisfaction. Images are available for licensing and enquiries are welcome. Many of the works on this website are in private collections, and though most of my paintings are located in Scotland, UK, some has found their way to America and Australia.
I also have a blog, Head to Head, Heart to Heart, which focuses upon the creative life, the ebb and the flow, for all creatives, how to nurture it and sustain it, sharing my own observations, thoughts, and snippets from my life. So topics include all kinds of things about art, writing and the creative life, matters of the head and matters of the heart.
Many of my original paintings are for sale via this website, and I have a product shop at Redbubble where all my work is available as framed prints, canvases, cushions, cards, mugs and many other products.
So I love to paint, write and create… And for whenever we creatives question the meaning of our creative life in the whole scheme of things, my abiding philosophy has to be what Gandhi said:
'Whatever you do in life will be insignificant, but it is very important that you do it'
To bring forth what is within you.
Very happy to connect with you here: